Introducing the Davidoff Year of the Dragon - Double Corona Cigar
November 15 2023 – Joe Berg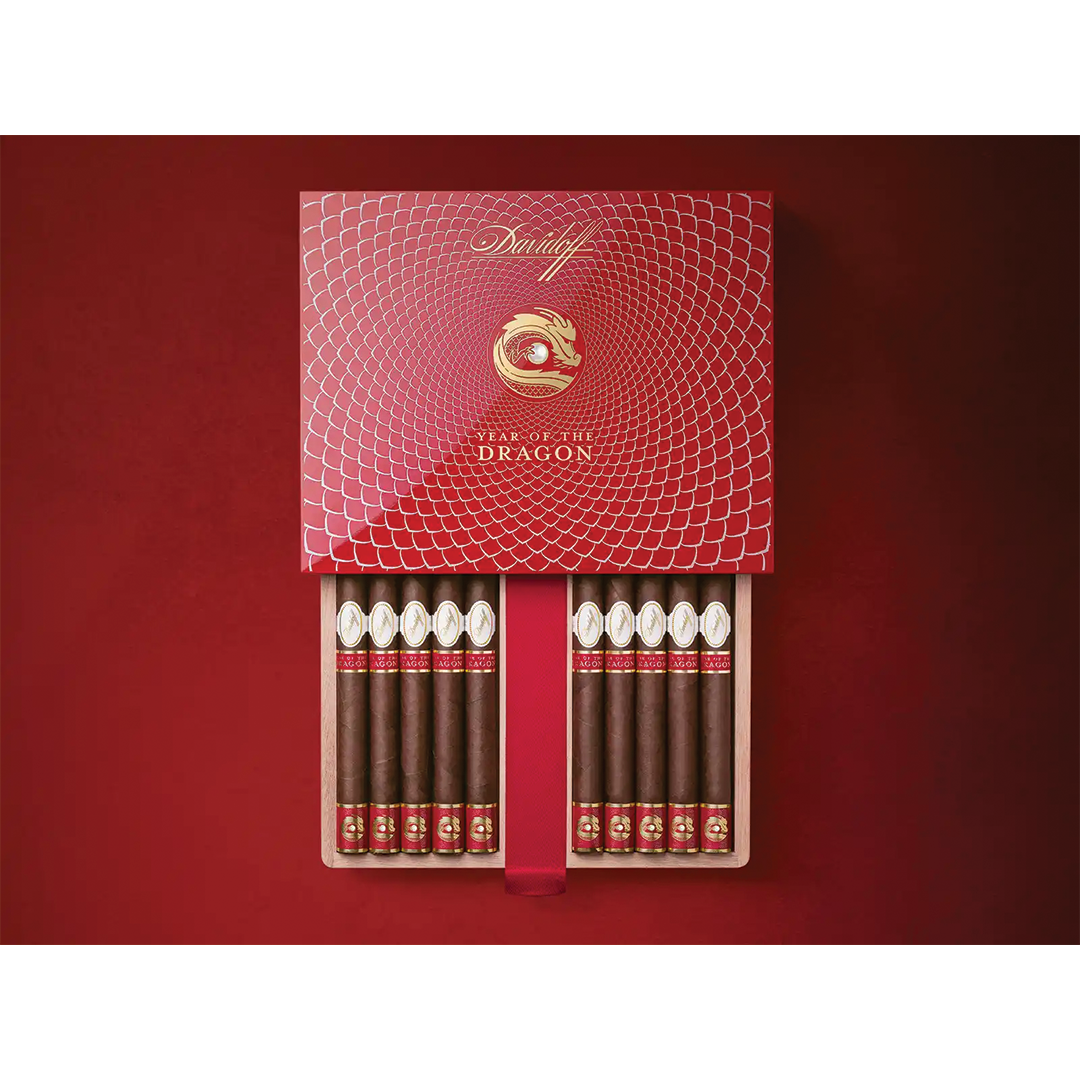 Just launched, the Year of The Dragon Limited Edition 2024 marks the twelfth execution of Davidoff's yearly Chinese New Year celebration. This marks the first completion of Davidoff's entire zodiac cycle which began in 2013 with the Snake.
Presented in a fine double corona format, this cigar surprises aficionados with an uncut foot, meaning that the first inch (2.5 cm) is to be enjoyed without the wrapper. Unique in taste, the blending process has skilfully brought together 8 different tobaccos from Dominican Republic, Nicaragua, Mexico and Ecuador, with a combined age 60 years. 
With the absence of the wrapper at the foot of the cigar, the beginning is enjoyable and exemplifies a high skillset in craftsmanship. Davidoff's Master Blenders have created an intriguing switch in taste and sensation as soon as the wrapper leaf comes in with added depth and complexity of flavours.

Davidoff is also celebrating the Chinese New Year with some fine accessories honouring the Year of the Dragon and accompanying the cigars.

With its delicate and precisely engraved Year of the Dragon pattern, this beautiful palladium double blade cutter is an eye-catching accessory for aficionados or collectors. This Gold-coated Davidoff Double Blade cutter, precisely engraved Year of the Dragon pattern, features an integrated spring system provides balanced blade movement, while blades lock when not in use. The ergonomic shape allows easy handling and carrying, and comes in a red leather pouch made of salmon skin, with the Davidoff logo engraved inside. The 21 mm cutter cuts up to a 56 ring gauge, and the cutter is numbered and limited to 588 pieces worldwide.
Also accompanying the launch is the exclusive porcelain ashtray, circular with two notches for cigars. The large white porcelain ashtray is decorated with the Year of the Dragon pattern in red and gold, and the centre shows the Year of the Dragon icon holding a pearl, delicately represented by using an iridescent lacquer effect. Made in a French atelier in Limoges, which is part of the Entreprise du Patrimoine Vivant, these are numbered by hand and limited to 588 pieces worldwide


 Always popular and produced in limited quantities, the Davidoff Zodiac editions sell out fast, often before the New Year Celebrations even begin. Act quickly to avoid disappointment (and a 13 year wait till the next), and secure yours now to ensure a fiery and smoky celebration of the Year of the Dragon.