Davidoff Winston Churchill Limited Edition 2022
February 03 2022 – Joe Berg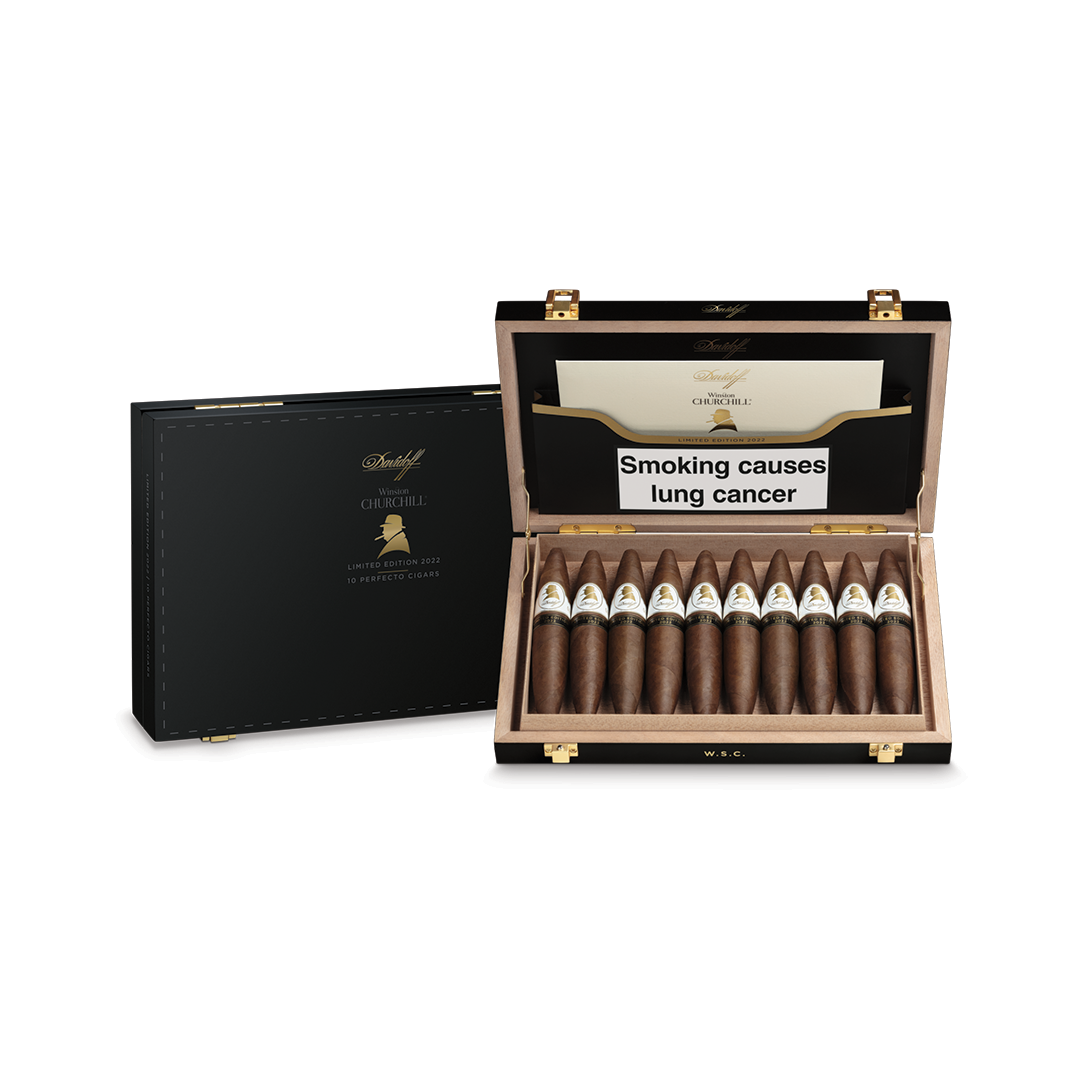 Now available, the Davidoff Winston Churchill Limited Edition for 2022 is the first of the range to be presented in a double perfecto shape. Measuring 5 7/8 inches x 61 ring gauge, this elegant perfecto cigar provides a medium to medium full smoke lasting 60 - 70 minutes.
Named the Statesman, the Davidoff Master Blenders have worked to create a complex and diverse flavour in this Winston Churchill Limited Edition to reflect the great man. His skill as a negotiator is represented in the combination of the quality multi-origin blends of 'The Original Series' and 'The Late Hour Series'. Five different fillers give this cigar it's complexity, with three from the Dominican Republic; piloto mejorado viso, San Vicente mejorado seco and viso, and two secos from Condega and Estelí in Nicaragua. This indulgent blend is wrapped in an oily Ecuadorian leaf, over a Mexican San Andrés negro seco binder.
Elements of Sir Winston Churchill, the person, are used throughout the packaging. The box is inspired by the look of Churchill's briefcase, and included with the ten perfecto cigars is a letter written by Randolph Churchill, Sir Winston's great grandson. The release is limited to 12,300 boxes
This fine cigar was sampled at a pre-launch tasting event held at the Edward Sahakian Cigar Lounge at the Bulgari, paired with a selection of Grahams Ports. From lighting, the cigar was smooth, with a creamy smoke and flavours of leather and coffee. The blending process succeeds in combining notes of cedar wood from the Late Hour Series and the floral flavours of the Original Series, providing a rich diversity of flavours to enjoy. 
The selection of ports provided by Grahams were a fantastic accompaniment to the cigar, especially the 1994 Vintage. The pepperiness of an earl grey tea pairing would be recommended for those looking to enjoy this cigar earlier in the day. As the cigar progresses aromas of walnut are added, with a balance of minerality and spice on the palate. A medium strength cigar this could be enjoyed at any time of the day. 
Rich and opulent, this cigar succeeds in creating an experience reflecting the great Statesman himself.